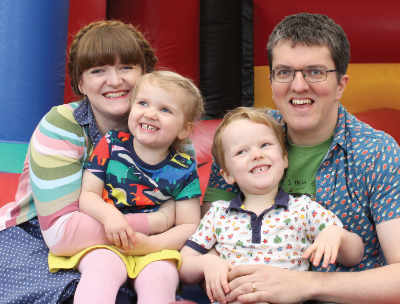 David Jennings is a husband and father of two young children living and working in North Yorkshire. David graduated with a first-class degree in Illustration and Design from Sunderland University in 2003. He was also awarded the David Cemmick award for illustration. Since then he has had a successful career in the commercial print and design industry, progressing into web development and infrastructure management. But his passion for illustration has always remained strong.
David has created a childrens' book and range of greetings cards inspired by his other interests; the environment, transport and engineering – in particularly trains and buses.
The book "Jelly – a frog's tale" explores the life cycle of a frog through the eyes of a young boy on a school trip. The volume is hand finished with transparent pages giving a tadpole/frog's eye view of the world, up through the waters of the pond or bucket.
Many of David's designs feature a red London Routemaster Bus. David's parents owns such a bus and which they preserve for it's history and nostalgia. This love of heritage and transport has taken root in another generation as David's children enjoy riding on the bus, drawing pictures like Daddy and visiting many museums and rallies.
David's work includes detailed watercolour paintings, hand drawn illustrations and digital illustration. The balance of accuracy and beauty with bold colours and lines creates a youthful and joyful quality to his work for all to enjoy.
When you buy a card or book please remember you are supporting a local artist who is thrilled to have helped you to celebrate a special occasion, thank you.